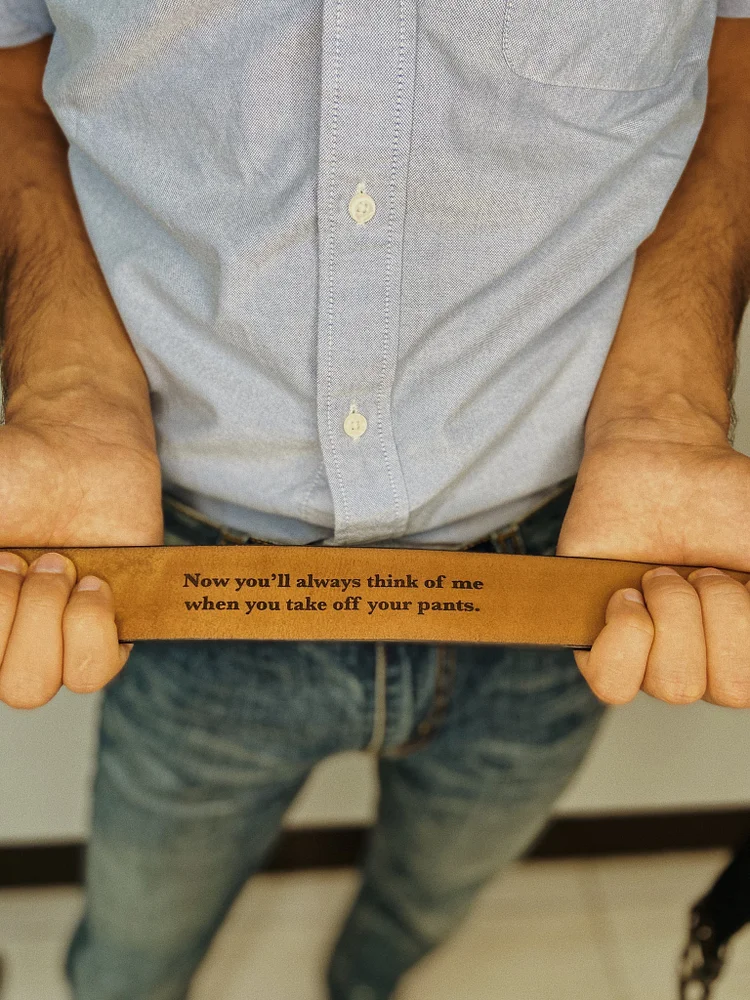 Men's belts are а really special part of accessorizing. They can be worn on a loose piece of clothing that needs to be tighten up, but it can also be an expressive fashion statement and your love to him.
Have you ever thought of giving one to your man? Giving him one means you want to be by his side forever. ✨
Get your man a secret message he can look at every day and remind of you. 😍
A printed on the inside of the belt, cannot be seen by anyone but can be only seen by the wearer, "Now you'll always think of me when you take off your pants." located on the belt loop😉
Material: Leather - very durable, manufactured according to the traditional technique, so the belt will serve you for a long time.
Color:
Size: 110cm / 120cm / 140cm
Width: 1.5 inch | 3.80 cm
BELT SIZE GUIDE
The most widely used method is to choose a belt that is 1-2" larger than your pants size, or as some say: ONE SIZE UP. Example, if you wear a size 36 pants, you would choose a size 38 belt. Being we do not offer odd size belts (35, 37, 39, etc), you will choose a belt that is two inches larger. Size 34 waist choose a 36 size belt, 36 waist choose a size 38 belt, 38 waist choose a size 40 belt, etc.
PANTS SIZE WAIST LENGTH